Charlotte and UNC Charlotte: Growing Up Together
Synopsis
Charlotte might have built the nation's first tax-supported university had an institution begun in 1771 survived the American Revolution, but it did not. Over the years, other efforts to establish a public college or university also failed. By the end of World War II when thousands of returning veterans sought an education on the GI Bill, the city found itself without a public institution to accommodate them. This is the story of visionary citizens and their valiant effort to fill that void. It is the story of Bonnie Cone and the other community leaders who shared her dream: Elmer Garinger, Woody Kennedy, Murrey Atkins, and many others.
It is also the story of how Charlotte and UNC Charlotte grew up together: Charlotte from a city of 120,000 to a metropolitan hub of over one million, and UNC Charlotte from a community college to one of North Carolina's leading universities. It is almost certain that neither would have realized such potential without the other.
Many state and local leaders provided crucial support. Bill Friday, president of The University of North Carolina, and his assistant Arnold King, recognized the rising needs of the state's largest metropolitan region. At key moments, Governors Terry Sanford, Dan Moore, and Robert Scott played pivotal roles. In succession, Chancellors Dean Colvard, E. K. Fretwell, Jr., and James H. Woodward arrived to accept the challenge of building a great university. Throughout, it is the story of dedicated professors, administrators, staff members, students, and generous friends who shared the vision and worked to make it a reality.
It is also a story of struggle: first for existence, then for facilities and public support, and finally for state and national recognition. Above all it is a story of success: of triumph over apathy, of startling growth, of rapid progress, of entrepreneurial verve, and of increasing excellence.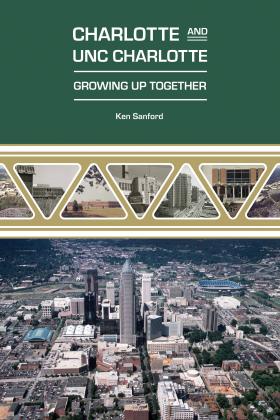 Downloads
Copyright (c) 2021 J. Murrey Atkins Library Digital Publishing
Details about the available publication format: Purchase paperback
Co-publisher's ISBN-13 (24)
978-1-4696-6632-7
Physical Dimensions
6in x 9in